Have you done a set of intervals (sprints) lately?
Perhaps you have got busy with work and family and just not been able to find the time
Well, sprints only take up 25 minutes of your entire week. 10 minutes of that is warming up and down and 11 minutes is resting. I make that 4 minutes of sprint training per week!
Shortly I will have some new videos on sprint fitness for you but if you need some inspiration right now, take a look at the following videos:
Here is a 96 year old former dentist who has recently smashed the world record  (in his age category) for the 200m sprint:
And here is a 104 year old also sprinting!
On another note, perhaps you're feeling too old to take up yoga. Well, here is a 96 year old yoga teacher who also loves to dance.
And…an 86 year old very jolly gymnast
In my private sessions and group classes I have several clients in their 80's and 1 superstar who is 90!
So, it's time to get inspired…this week, make sure you do at least one of these 3 things:
1 Do a session of sprints  – It doesn't matter what exercises you choose or where you do them, just go flat out for about 30 seconds, then recover for 90 seconds. Continue up to a maximum of 8 rounds. Click here for more info and to join in with a mini cardio routine or click here for some non equipment ideas about how to raise your heart rate.
2 Get to a yoga class – Even if you're not that supple (yet) or particularly great at meditation, just give a class a try. Here is a taster of a short sequence of flowing yoga. If you start now, and think long term, just imagine your suppleness and inner strength in 5 years.
3 Do some dancing – Sorry  don't have any dancing videos, but you can play some upbeat music at home and have a groove to yourself or with others. You'll feel great during and after.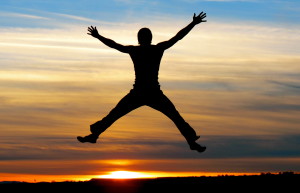 Ok, time to get going and enjoy your body!
Take care
Thanks Danny
PLEASE SHARE THIS BLOG WITH ICONS BELOW